Periodically, the connection between 3rd party platforms and CreativeX will lapse. It is important to relink your platforms as soon as possible to minimize losses in data and continue getting up-to-date creative insights.


Who is notified when a platform connection has lapsed?
If you originally connected the account, you'll receive an email to notify you when a platform connection has lapsed with links and instructions to reconnect your account. You can see all your linked platform connections live under Accounts.


If you chose to opt-in to lapsed account notifications, you'll receive an email with details on who connected the account with links and instructions to pass on.
Who can reconnect lapsed platform connections?
If you originally connected the account, you will be able to reconnect the platform connection. We recommend that this user reconnect the accounts.
If you didn't connect the account but you have both a CreativeX account and administrative privileges on your brand's 3rd party platform, you can also reconnect the lapsed account to CreativeX.


I originally connected the platform to CreativeX - How do I reconnect a lapsed connection?


From the notification email

Visit your notification email(s) with details of the lapsed connections

Select the unique link to reconnect the lapsed platform connections

You will receive multiple emails, review each carefully:

One email per each Instagram or Facebook lapsed connection and/or

One email notifying you of multiple connection lapses across Snapchat, YouTube, or Twitter.




From your CreativeX Account

Select Connections, and click on Ad Accounts

If any lapsed accounts are present, a "Needs Connecting" header will be listed as the first tab and highlighted with an exclamation point.

The number in brackets will indicate how many connections sit under this status.

Select "Needs Connecting" to view all of these accounts in one table.

Click

Activate

next to the lapsed account details to reconnect it.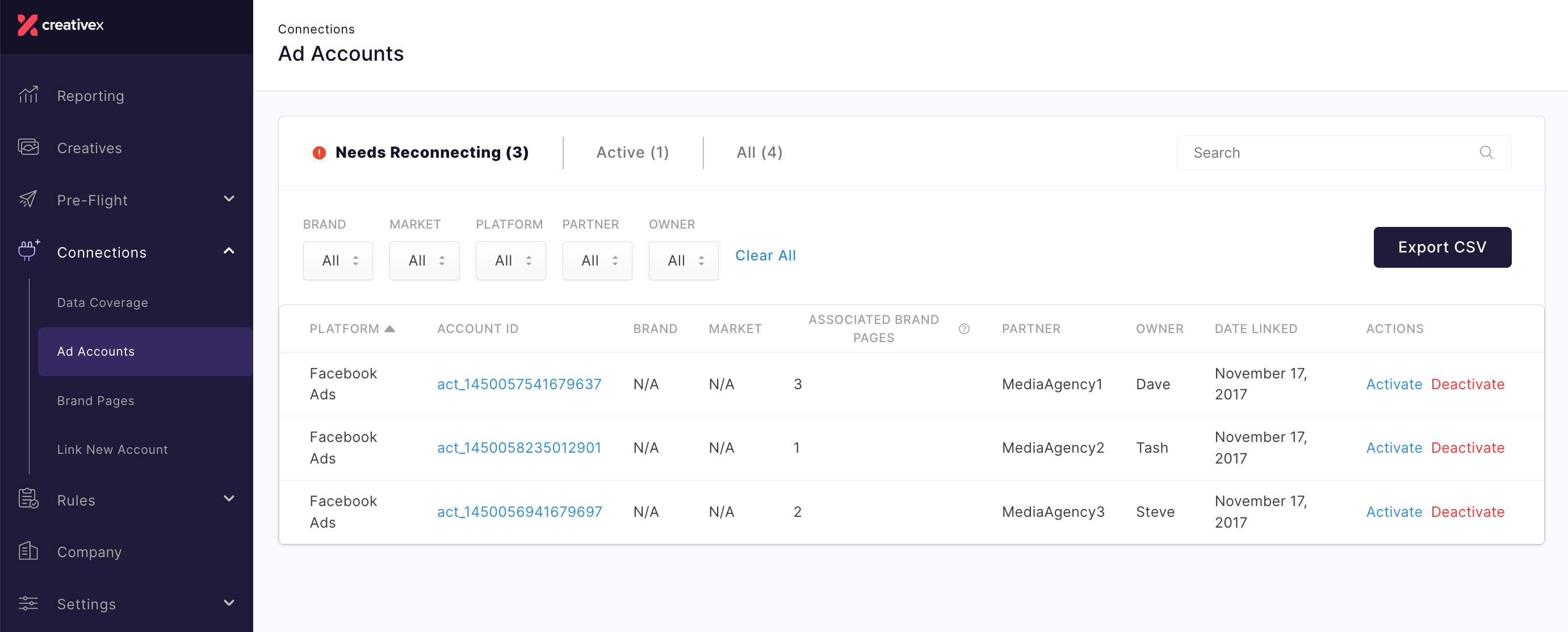 Depending on the platform, you'll be guided through a multi-step account connection flow.

Once your platform connection has been reconnected, the account will then appear under the "Active" tab.
The original connector of the account is not available, how do I reconnect a lapsed platform connection?
Anyone who has administrative permissions on your brand's social platform can reconnect it to CreativeX. For support on this, please connect with us.
Where else can I see lapsed account information?
The Data Coverage overview and Ad Account Manager both show information about the number of lapsed accounts for your organisation. You'll see numbers indicated across the top of each page to let you know how many lapses there are and what action to take.
Tip: Notifications for lapsed platform connections are automatically sent to the user who first connected it to CreativeX. To ensure that no lapses in data occur without your organization's knowledge, we recommend that each organization have multiple users opted-in to notifications regarding platform connections. Opt-in for notifications from your account or find full instructions to opt-in here.

Need help?
Connect with us.