In order to connect your Google Ads accounts, you'll need to send out an invitation for CreativeX to access your Manager Account or MCC with Read-Only Access. To do this and have all of your accounts connected, follow the steps below but
Ensure that all of your accounts are consolidated into a single Manager Account or MCC.

Due to a limitation from Google, we are not able to accept individual invitations for every brand.

See the links at the bottom of the article for a more in-depth explanation of how this is done.

If you do not have a manager account, instructions on creating one and connecting to CreativeX can be found at the bottom of the article.

CreativeX needs access to a Manager Account (or MCC) as t

his account hosts all of the Account External Customer IDs for each brand and market globally. It's from these connections that we are able to pull in and analyse your data.
How to give CreativeX access to your ad account(s):
Download and complete a copy of this form using this link

Complete it in full and include all of the Account External Customer IDs for each Brand and Market combination.

Send the completed form to support@creativex.com

and request your CreativeX Connection Alias

Don't forget to let the team know which client your agency represents e.g. Nestle, Unilever etc.

Once you have received the alias from our team, send out the invite for

Read Only

access.

Details of how to do this can be found here.
Do not send a new invitation if the accounts being added are nestled under an MCC that is already connected with CreativeX. Please instead, simply email support with the updated form and and let them know that new accounts need to be linked.
Creating a Manager Account (MCC)
Sign in to your Google Ads Account and then go to the

Google Ads Manager Accounts

page. Click the blue "Create Account" button.

Give the manager account a clear name. A warning will appear above the Save and continue button and it will say "Do you want to create a new Google Ads account associated with this e-mail address? Make sure you click the blue "Click Here" link.

From the Manager account that houses all of your ad accounts, send a "Link Request" to your new Manager account by going to the "Accounts" tab, clicking the blue "+" button and then "+ Link existing account". Accept the "Link Request" on the Management tab from the new Manager account in your own Google Account.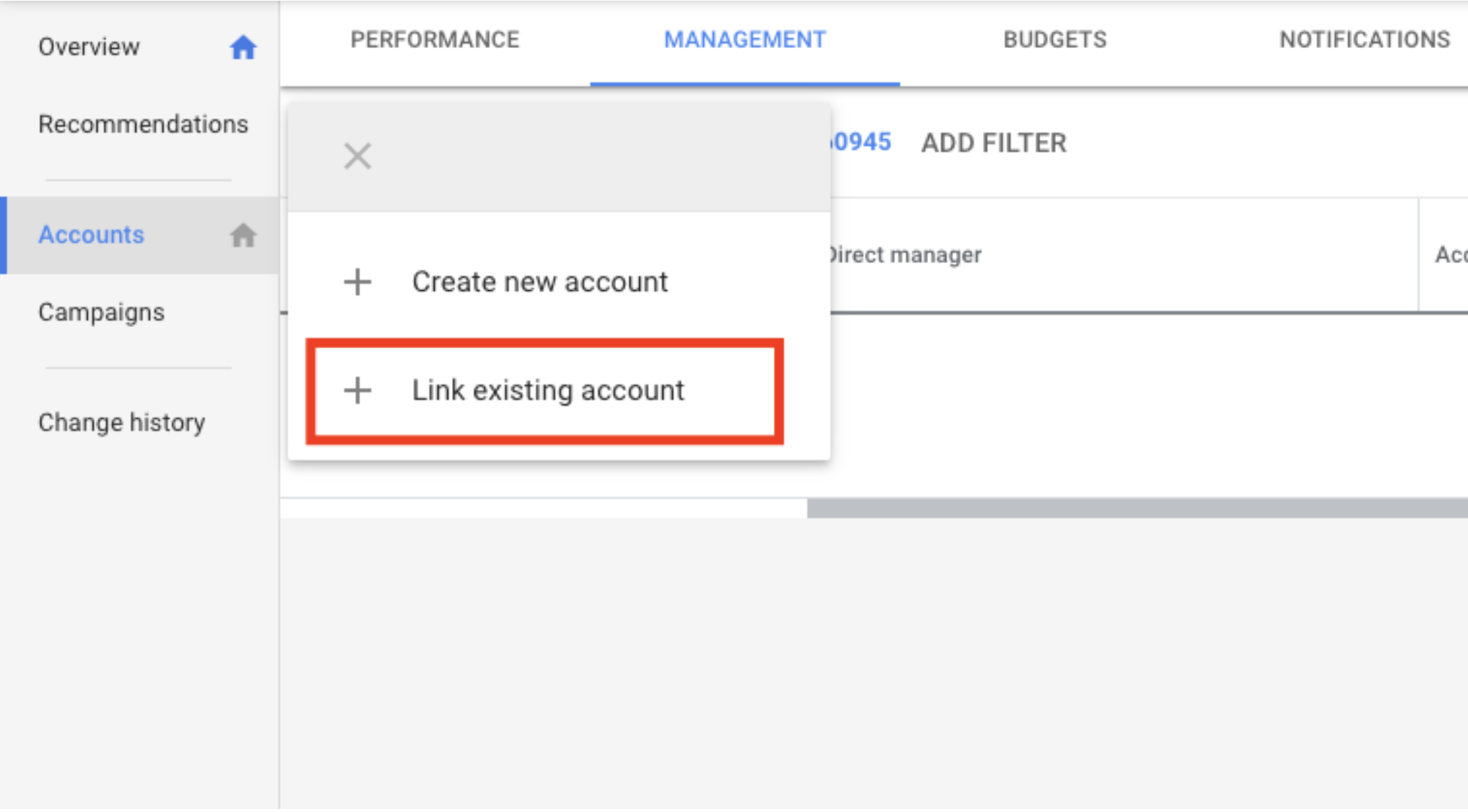 Once accepted, the new Manager account will (eventually) appear underneath the Manager account that sent the link request.

You can now move existing Ad Accounts to this new Account by going to the Management tab, selecting the Ad Account(s), selecting "Change Manager". Select the new Manager you have just created. The new accounts should now be moved across.
Additional Information:
Create a Google Ads Manager Accounts