Overview
Connecting your Facebook Accounts is a 2 to 3 step process and all stages must be completed in order for us to analyse your content.
Access Facebook Business Manager and add CreativeX as a Partner to the account(s) that you wish us to analyse.

Provide "View Performance Access" only.

You must then go to the CreativeX dashboard and assign the account(s) to the correct Brand and Market combinations via the Accounts Page
If Facebook Brand Pages are associated to your ad account then CreativeX must also be added as a partner to these in order to ensure we are able to capture any additional posts.

Not every account will have a page association, but if it does it will need to be assigned.
Step by Step Guide
Starting from your CreativeX dashboard, follow each of these steps for every Facebook ad account that you wish to link. Whilst adding us as a partner can be done in one go, each account must be connected individually on CreativeX's dashboard.
Sign in to CreativeX, then look for Connections on the side menu.
Expand it, and then click on Link New Account
Select the "Facebook and Instagram Ads" card and you'll be presented with the screen below.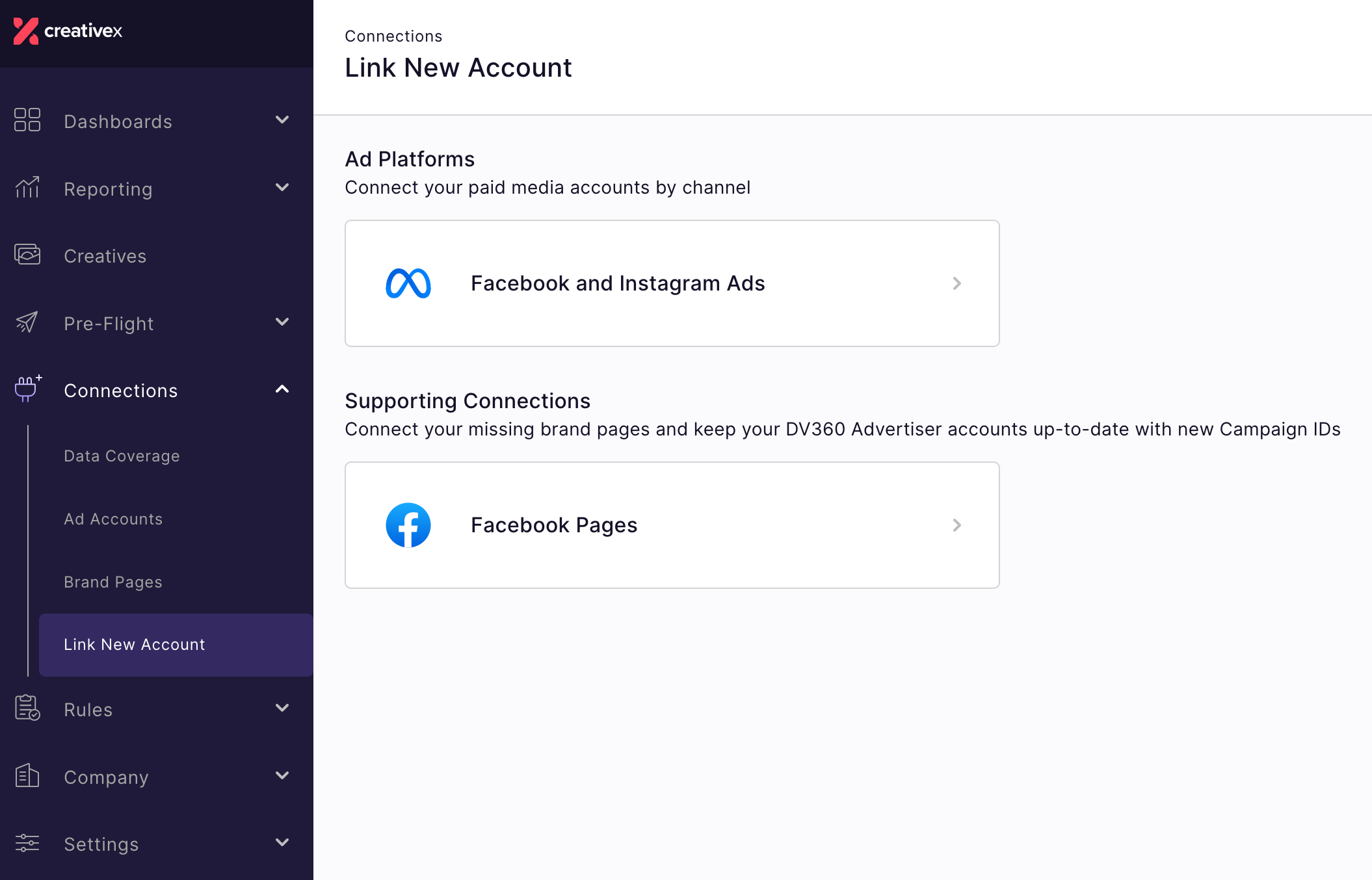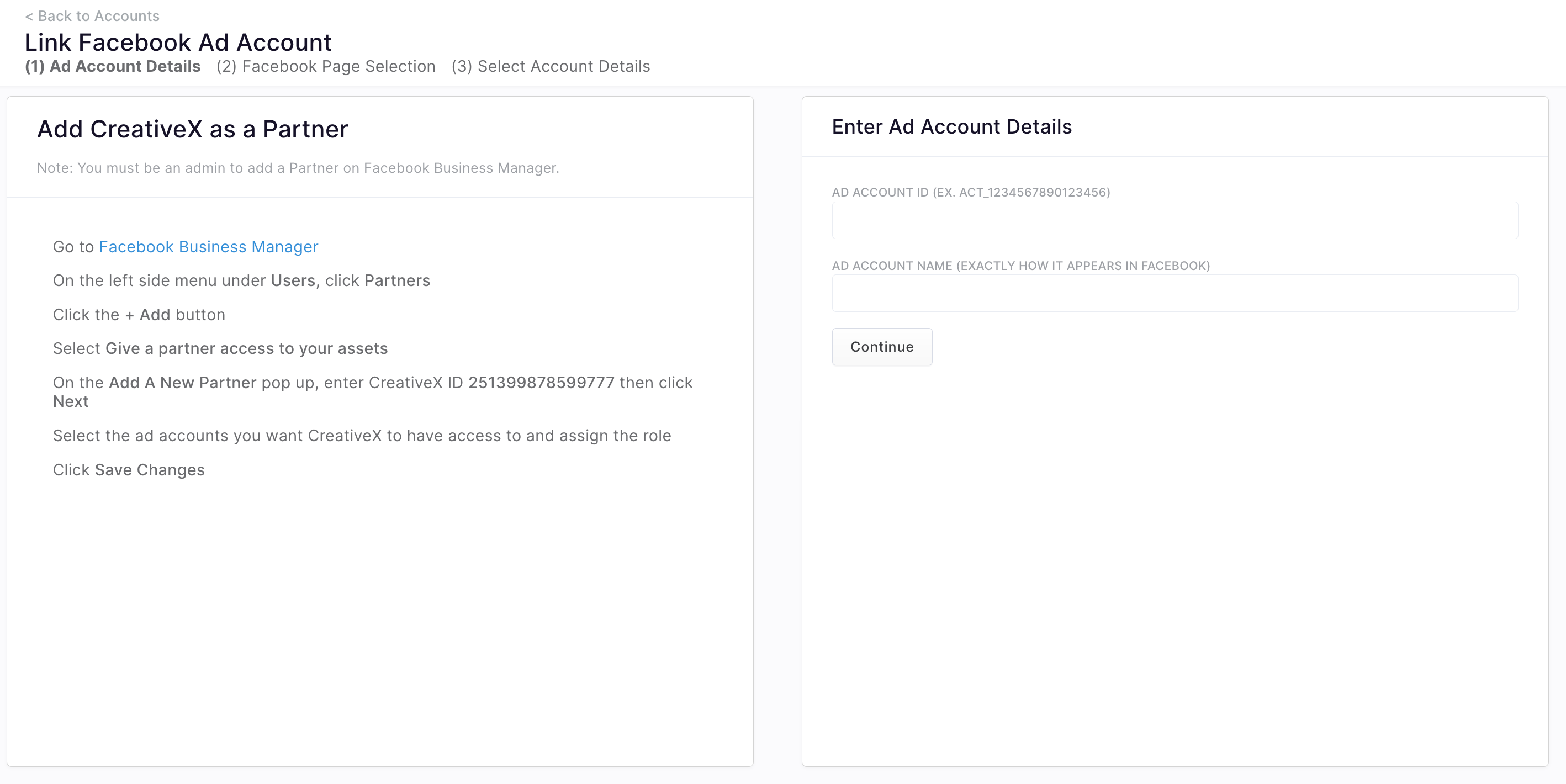 As shown in the left card, you'll need to go to Facebook Business Manager and add CreativeX as a partner by completing all of the steps listed.

Our Business Manager ID is 251399878599777.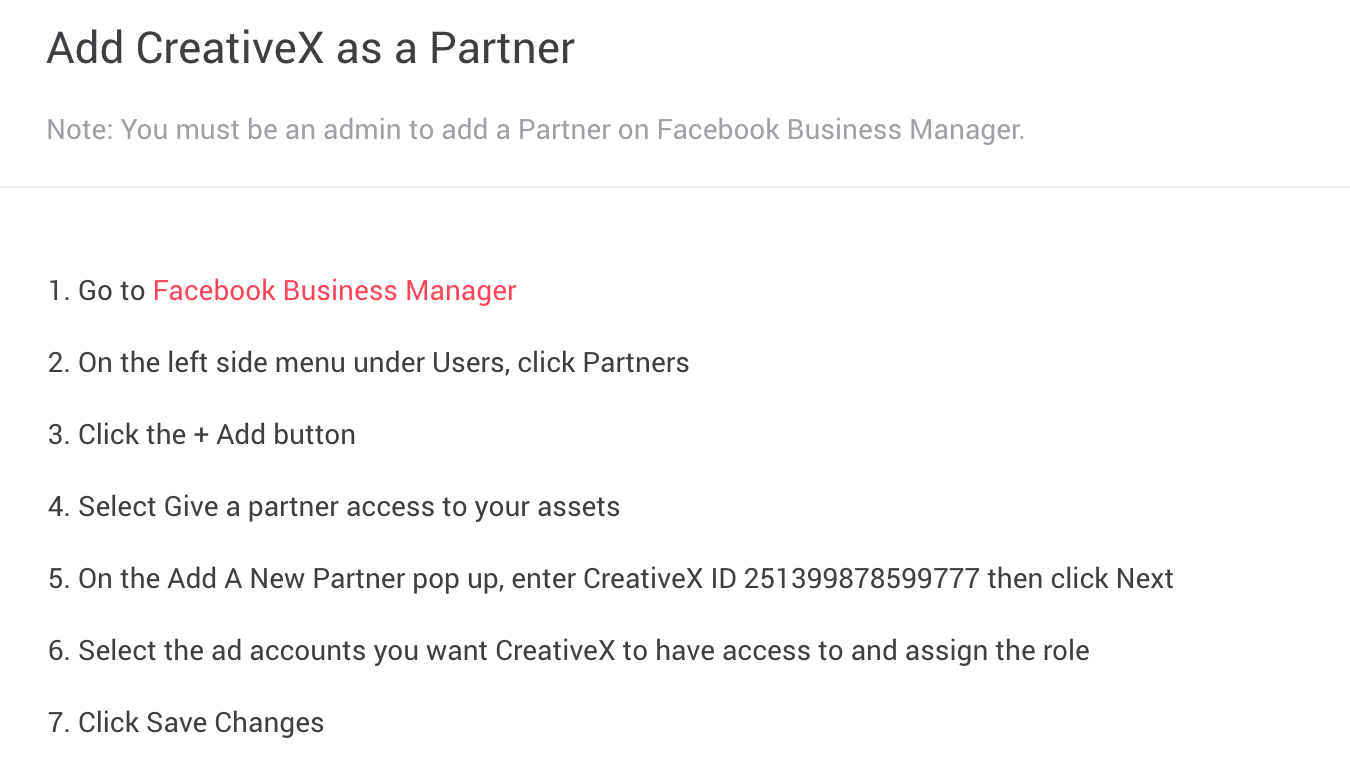 Once done, you've now completed the first stage of the process and must now return to the previous screen on the CreativeX dashboard to finalise the connections.


In the right-hand card you'll need to first copy & paste the Facebook Ad Account ID and Account Name exactly as it's shown on Facebook Business Manager.

In the first box, you'll need to add act_ followed by the account number e.g. act_987654321.
Make sure that there are no spaces before, in, or after the ID you've entered.

In the second box, copy & paste the Ad Account Name exactly as it appears in Facebook Business Manager.
You must ensure that there are no spaces before or after the name (it's fine if there are spaces in the name itself.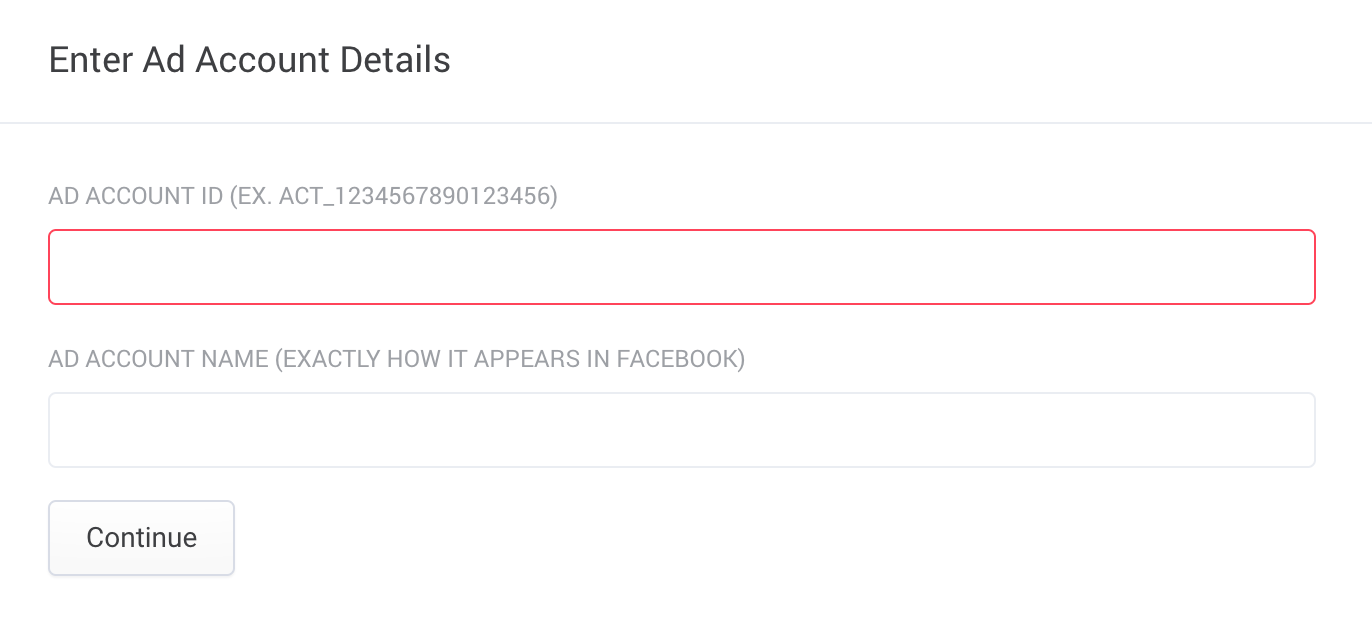 If you get an error message, it means one of the following (usually the first):


The Ad ID or Ad Name is not entered correctly.
CreativeX has not been added as a partner in Facebook Business Manager.
CreativeX has been added as a partner, but with the wrong permissions.

Remember, that you must provide View Performance access.

If you're still receiving an error message, and have confirmed that none of the above is the cause then please email support@creativex.com and we'll get the issue sorted for you!


Next, you'll be asked to confirm that any associated Brand Pages are assigned to CreativeX as well. Assigned brand pages will show with a green tick, and yet to be assigned pages will be shown with a red X.

Only a page admin or owner can complete this step but if a page is listed here then it will be required to ensure that we pull in all content from the ad account.
If you don't have the correct permissions to complete this step or if you're unsure of how to connect a brand page, don't worry, you can still complete the ad account connection without it. Just click Continue and move on to associate the brand, market and owner; however note that the brand page linking must be followed up on separately.

For more details on Brand Pages, please check out the links at the bottom of this article.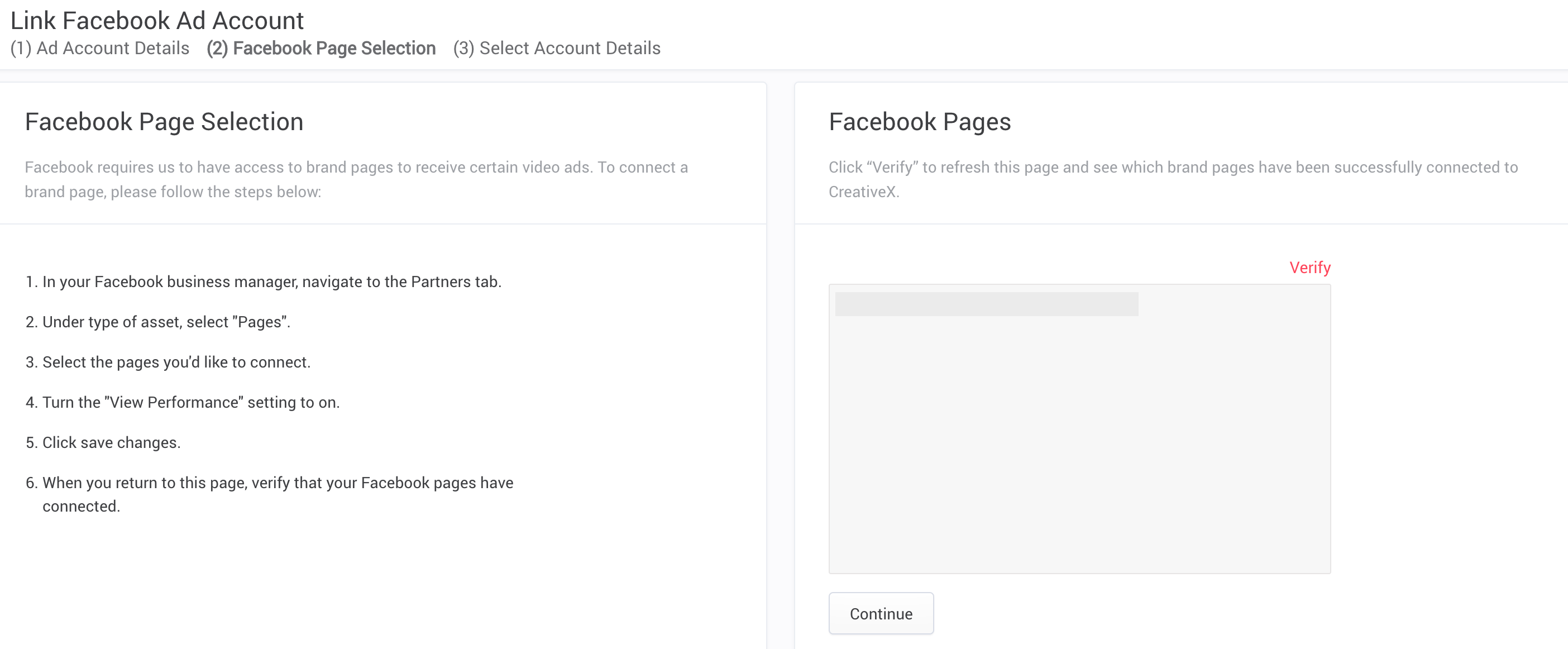 On the final screen, select the Brand & Market that this Ad Account is associated with as well as the Company Owner. This refers to the agency or company that manages the ad account.

Contact support@creativex.com if you don't see your company on the list.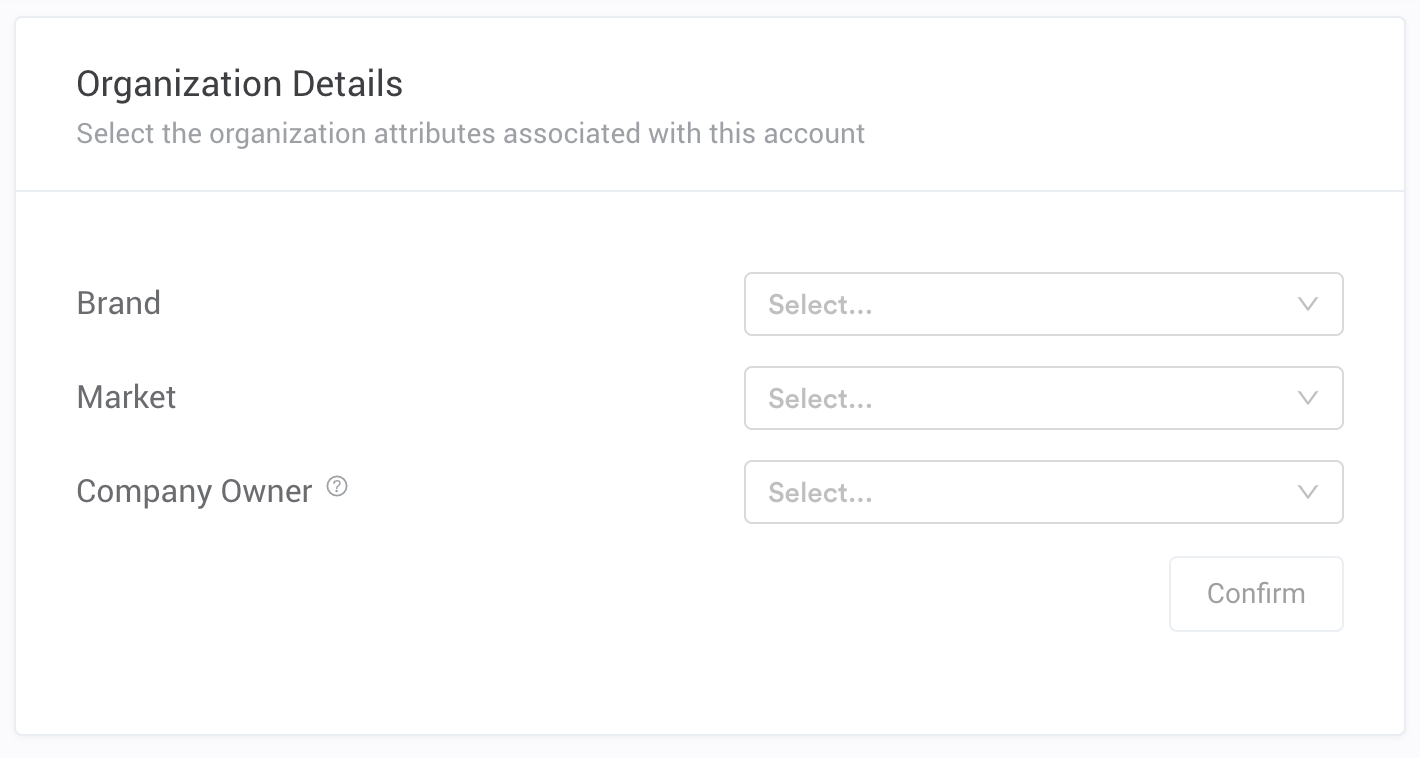 After clicking the "Confirm" button in the bottom right-hand corner, a final confirmation screen will appear and if all of the information looks correct, select "Looks Good!" and you will have completed connecting your Facebook and Instagram Ads account!
You'll need to repeat this process for each ad account individually.
IMPORTANT NOTE on Facebook Brand Pages
Although the ad accounts are now connected, CreativeX will not be able to pull in all video content data unless all associated Facebook Brand Pages are assigned; so be sure to check if your ad account needs to have these completed as well.
A list of ALL required brand pages can be seen here on your dashboard and so if a brand page appears for your account then you can use the instructions linked below to connect them yourself.
If you don't have the right permissions to do this then you can share the list directly with the brand team that owns the pages for them to complete this step.
You can also click on the

account ID

itself to see the brand pages that are associated with that specific ad account.
Please notify support@creativex.com if you do not know who owns the brand pages.
If there is no brand page listed or if the count says 0 on the main page then there's no need to worry about Brand Pages for that account.
How to associate Facebook Brand Pages
The articles linked below provide all of the details you'll need!