Overview
CreativeX offers real-time global visibility into all of your creative content. This is possible through all the digital platforms that get programmatically connected to CreativeX, allowing us to pull in creative content in real-time.
Using this Data Coverage page, you can now get a global view of everything that's connected. This will allow you to better track your onboarding progress to ensure coverage across all your brands, markets and platforms. It will also allow you to better monitor any rising issues such as missing Facebook brand pages, lapsed ad accounts or even missing connections as a whole.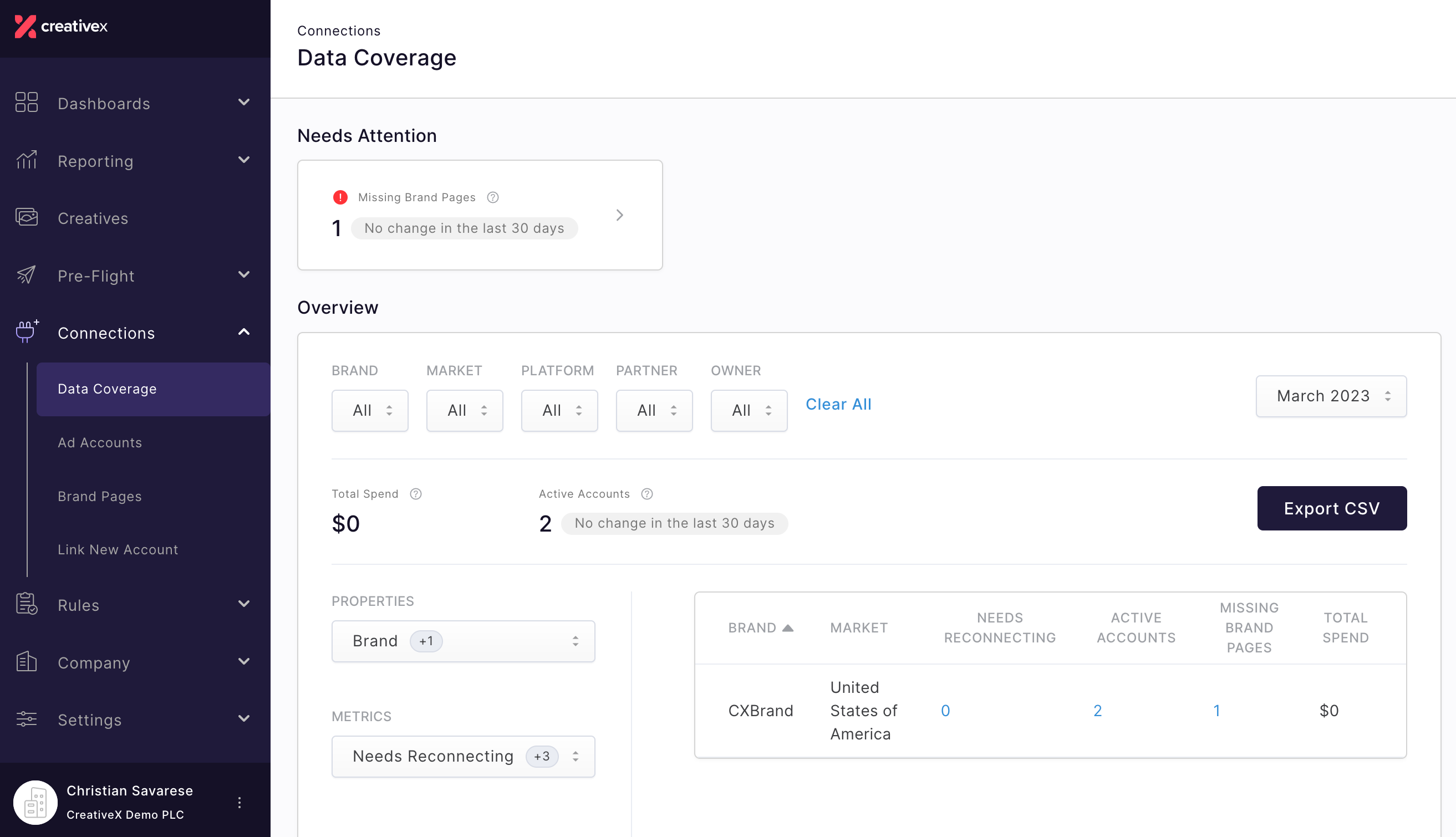 By leveraging this page, you'll be able to directly address these red flags in order to maintain the flow of data into CreativeX, as well as obtain visibility into key information such as the total spend and number of connections that are associated with each active Brand and Market within your dashboard.
Simply put, this page can be used to monitor the progress of ad account connections and address any situations that require attention, whilst also allowing you to download and share that information easily across your teams.
Read on below for more information about the Data Coverage page, or visit your dashboard here to take a look for yourself!
Features
Maintaining the Flow of Data
You'll see up to two potential actions that will be listed in order to help maintain the flow of data into CreativeX. These are:
Needs Reconnecting:

When shown, this means that CreativeX has lost access to ad accounts and data is no longer being extracted from them. You'll need to relink them so that access is restored and content can flow back into the system. You can reconnect accounts using the instructions listed

here

.

Missing Brand Pages: Facebook stores some videos in Brand Pages and so if these aren't linked then we'll be unable to pull in data for any additional content across Facebook & Instagram. You can connect all of your brand pages using the instructions listed here.
In both cases, you should be able to view alerts to notify you how long these have been issues for within the last 30 days. Clicking on either of these sections will direct you to the ad account manager page and allow you to view and take the necessary action to restore access or make new connections.
Overview & Dynamic Table
In the Overview section, you'll be able to view the total spend that's been reviewed and processed in CreativeX across all the platforms connected. We know this is an important metric as it can be used to identify if there's any media spend missing due to missing ad accounts / brand pages which weren't connected; or due to lapsed ad accounts which need reconnecting. In addition, you'll be able to see the total number of active accounts in your dashboard; and connect any new ad accounts that might not be included.
Making a selection from any of the Filters, Properties and Metrics dropdowns will automatically update the table view in real time!
⚠️ Note: If you change the Date, this will cause the page to reload. Doing so will reset your filters so make sure that you change the date before selecting any of the options listed above.
By default, ALL of your content will be listed, but the options shown in red will be the default view. You can utilize filters, as well as add or remove any of the fields shown in the list below to expand the information: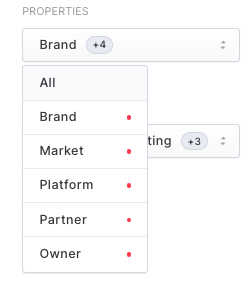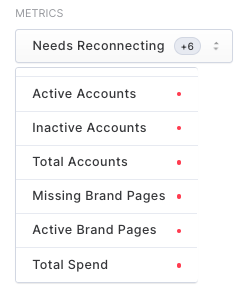 Downloading the Table View
You can export the table from the dashboard so that you can share it with your teams. The download is dependent on your selected filters.
How to action these notifications?
The Data Coverage view will be the first page that you'll arrive at within the Accounts section of your dashboard. It's sat alongside the Ad Account and Brand Page Manager views as part of the overall Account ecosystem.
Clicking on any of the Account or Page related fields (hyperlinked in blue) within the Data Coverage table will send you to the corresponding view within either the Ad Account or Brand Page Manager views. The necessary filters are applied automatically meaning that you'll be able to quickly find more detailed information about the connections and take action from there if needed.