Overview
Connecting your Facebook ad accounts is a really straightforward process and doing so will mean that CreativeX can then capture and report on all of your Facebook and Instagram content.
The process can be completed in 1 or 2 stages, but this depends on your permissions* and whether or not any of your ad accounts are associated with Facebook Brand Pages.
Connecting Facebook Ad Accounts
*You must have the ability to share View Performance Access to Ad Accounts and/or Brand Pages from your Facebook Business Manager account.
If Pages are relevant to your content, then you must complete both stages to ensure that all of your content will be pulled through to CreativeX. You can complete either of the stages at any time, which means that you don't have to wait for the ad accounts to appear on your dashboard's overview before attempting the page connection or vice versa.
Connecting Facebook Ad Accounts
Log in to CreativeX and navigate to the

Ad Accounts

section

Click [Your Name] > Settings > Ad Accounts

Select Link New Account and choose the "Facebook and Instagram Ads" option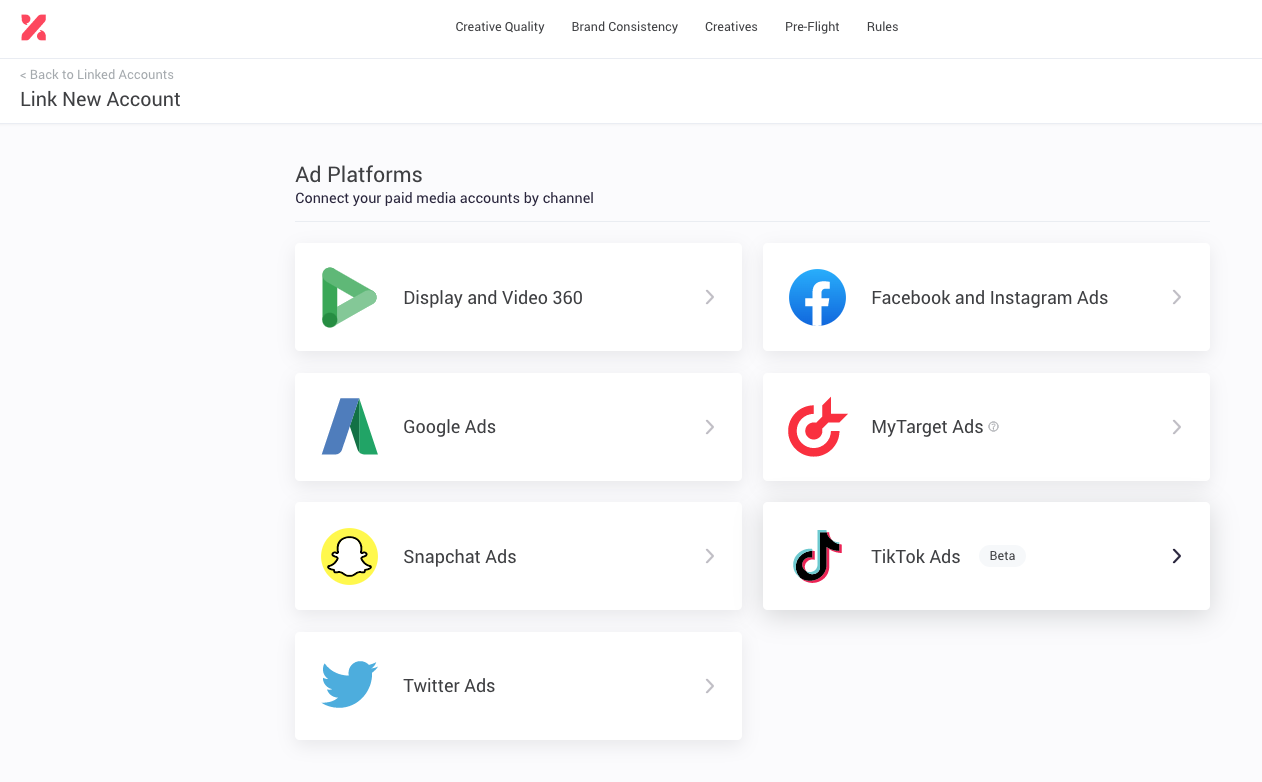 When prompted, sign into your Facebook account and you'll then be shown all of the business managers that you have access to. CreativeX will only be able to collect data from the managers that you choose.
Note: Don't edit any of the permissions in the flow as you won't be able to complete it.
The permissions listed here are standard from Meta and are covered by your company's data-sharing agreement with CreativeX. We gain read-only access to the asset and performance information of your content.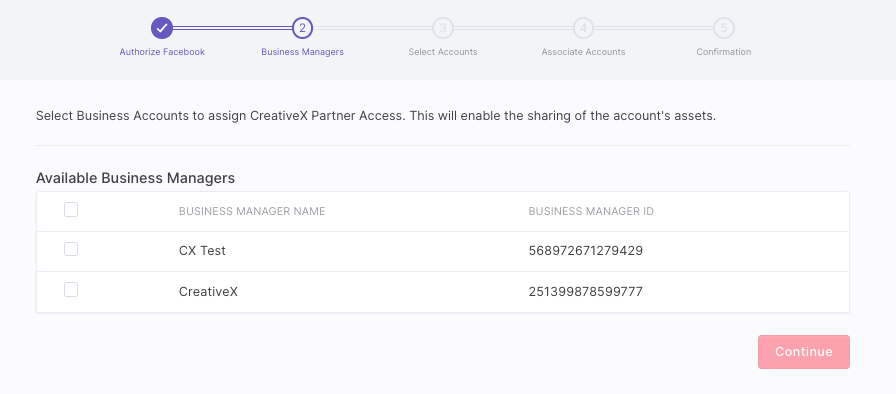 Once you've identified the Business Manager(s) that you need, confirm them and then select the Brand, Market and Partner for each ad account.

If they're all for the same combination, you can choose to complete a bulk association which will assign the same fields to each ad account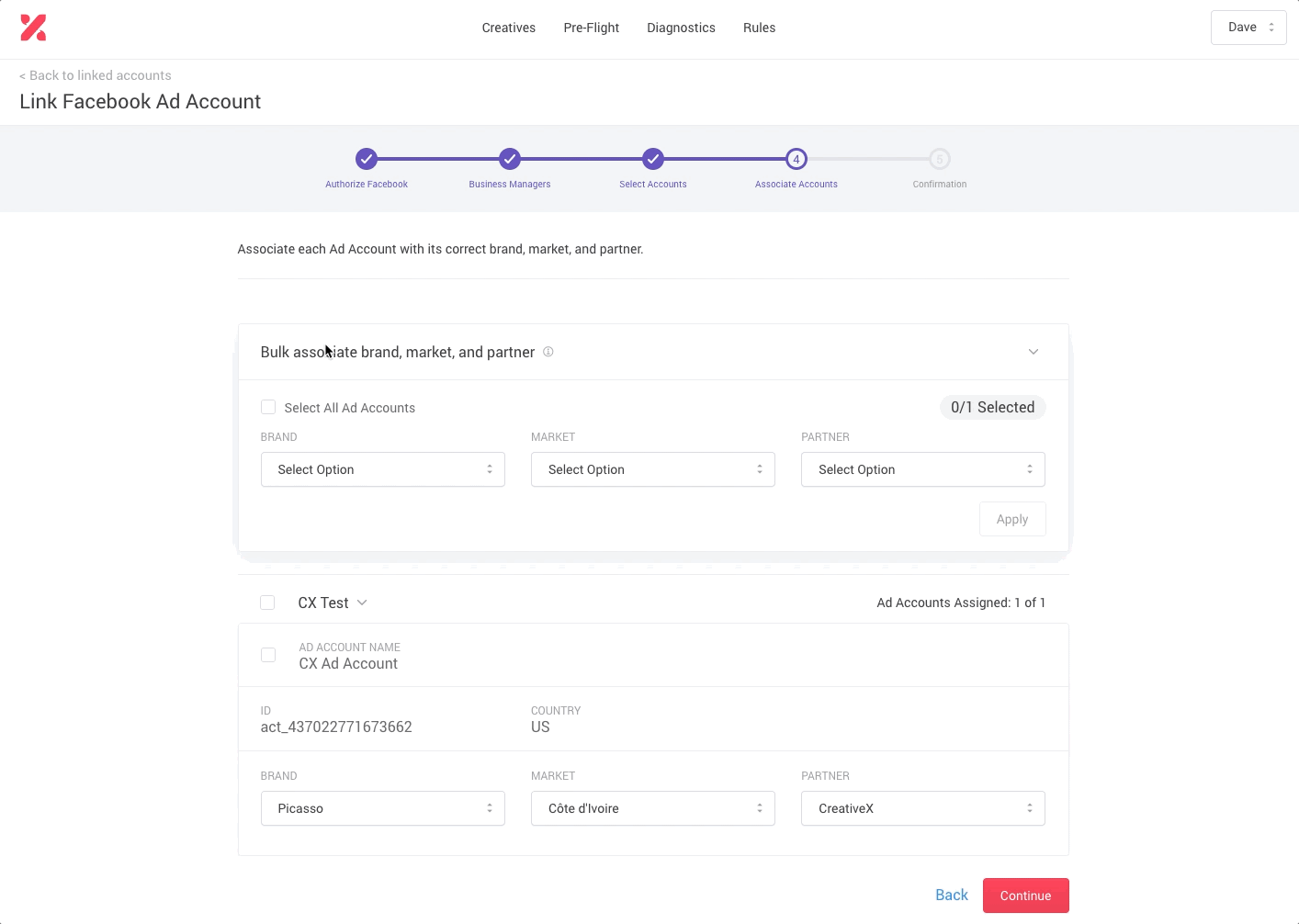 Verify that the account associations are all correct.

You can still edit the Brand, Market and Partner fields if you need to.

DO NOT select an option if it is not the correct listing for your account as this could lead to inaccurate data.

I

f an option doesn't exist or if you're unsure what to choose, then you should contact your CreativeX contact or

support@creativex.com

for assistance.

On the final summary page, take another chance to confirm that everything looks correct.

Press Confirm to finalise the connections and to return to the Ad Account overview.

You can always come back and complete additional connections at a later time.
Congratulations! Your accounts have all been linked to CreativeX!
⚠️ Remember! In most cases, you will need to provide access to your Facebook Pages to ensure that we're capturing all video content from your accounts. Another user may need to do this but follow this link for more information.