Overview
Connecting your Facebook ad accounts is a really straightforward process and doing so will mean that CreativeX can then capture and report on all of your Facebook and Instagram content.

The process can be completed in 1 or 2 stages, but this depends on your permissions* and whether or not any of your ad accounts are associated with Facebook Brand Pages.
Connecting Facebook Ad Accounts

This is the minimum requirement to pull in content to CreativeX

Linking Associated Brand Pages

A brand page may be required to pull in additional video content from associated ad accounts.

If your ad accounts are associated with Brand Pages follow the link above to ensure that we're able to pull in all of your data
*You must have admin-level access on Facebook Business Manager to link accounts & pages
As you progress, if any options appear to be greyed out or unselectable then this means that the managing account that you've logged in with does not have the access required to proceed with those connections. You'll need to try again with a different user account or contact another member of your organisation to complete them for you.
Connecting Facebook Ad Accounts
You can connect all of the ad accounts from within a single business manager in one go, but if you have access to more than one business manager then you'll need to repeat the connection process for each one individually. To complete your connections, follow the steps below:
Log in to CreativeX, then look for Connections on the side menu.

Expand it, and then click on Link New Account

Choose the "Facebook and Instagram Ads" option

When prompted, sign into your Facebook account.

You'll then be shown all of the business managers that you have access to.

CreativeX will only be able to collect data from the managers that you choose.
Note: Don't edit any of the permissions in the flow as doing so will prevent you from completing it.
The permissions listed here are standard from Meta and are covered by your company's data-sharing agreement with CreativeX. We gain read-only access to the asset and performance information of your content.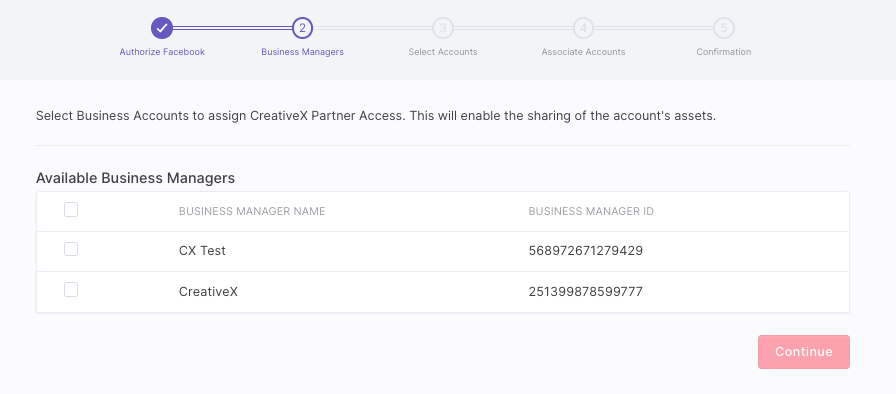 Once you've identified the Business Manager that you need, press Continue to assign the Brand, Market and Partner for each ad account.

If they're all for the same combination, you can choose to complete a bulk association which will assign the same fields to each ad account

If there are more than 25 ad accounts within your business center then you'll need to select "Load More" to connect them all within the same session.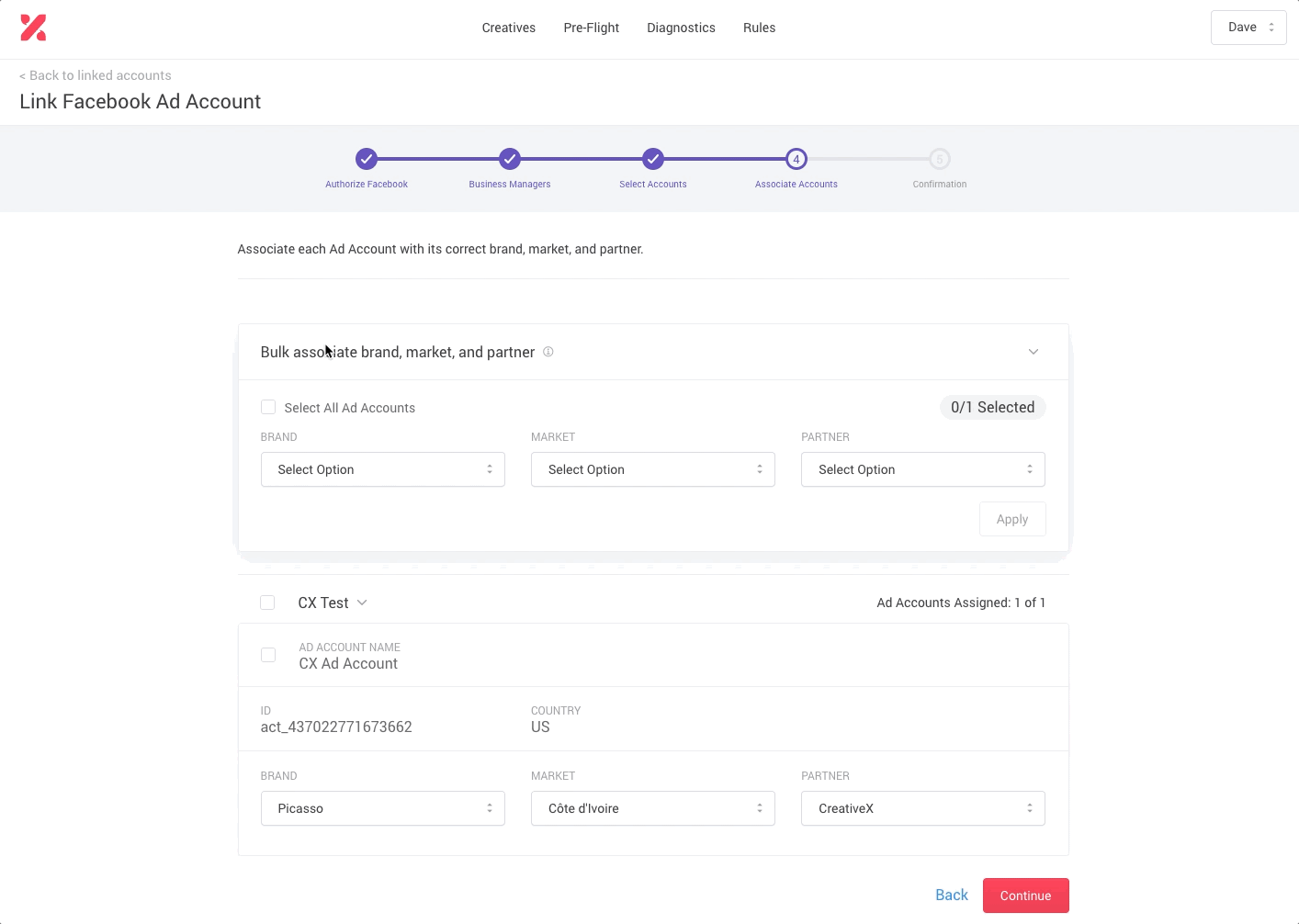 Verify that the account associations are all correct.

You can still edit the Brand, Market and Partner fields if you need to.

DO NOT select an option if it is not the correct listing for your account as this could lead to inaccurate data.

I

f an option doesn't exist or if you're unsure what to choose, then you should contact your CreativeX contact or

support@creativex.com

for assistance.

On the final summary page, take another chance to confirm that everything looks correct.

Press Confirm to finalise the connections and to return to the Ad Account overview.
Congratulations! Your accounts have all been linked to CreativeX!
Summary
You can always monitor the status of your (new) connections under Ad Accounts to ensure that they are active and pulling in content to the dashboard, but you can also sign up for email notifications which will alert you if your ad account(s) encounter a problem.
If you're unable to complete a connection or need to pause the process don't worry, as you can always come back and complete additional connections at a later time.
⚠️ Remember! In most cases, access to Facebook Pages will be required to ensure that we're capturing all video content from your accounts. Another user may need to do this but follow this link for more information.