Overview
It's important to link your Facebook Pages to CreativeX to ensure that we're able to pull in all video content from across your ad accounts. The link between Facebook and CreativeX requires that we have access to any Brand Pages that are associated with the video in order to fetch its source. Without that video source, CreativeX is unable to download it and analyse the video against the various rules in place on the system.
You can now link your organisation's Facebook Pages directly in CreativeX via oAuth flow but you must have admin-level access on your Facebook Business Manager account to complete the flow.
⚠️ Please notify support@creativex.com if you do not have these permissions or if you don't know who owns the brand pages for your organisation.
Linking your Facebook Pages to CreativeX
Log in to CreativeX, then look for Connections on the side menu.
Expand it, and then click on Link New Account

Choose "Facebook Pages" found under the

Supporting Connections

section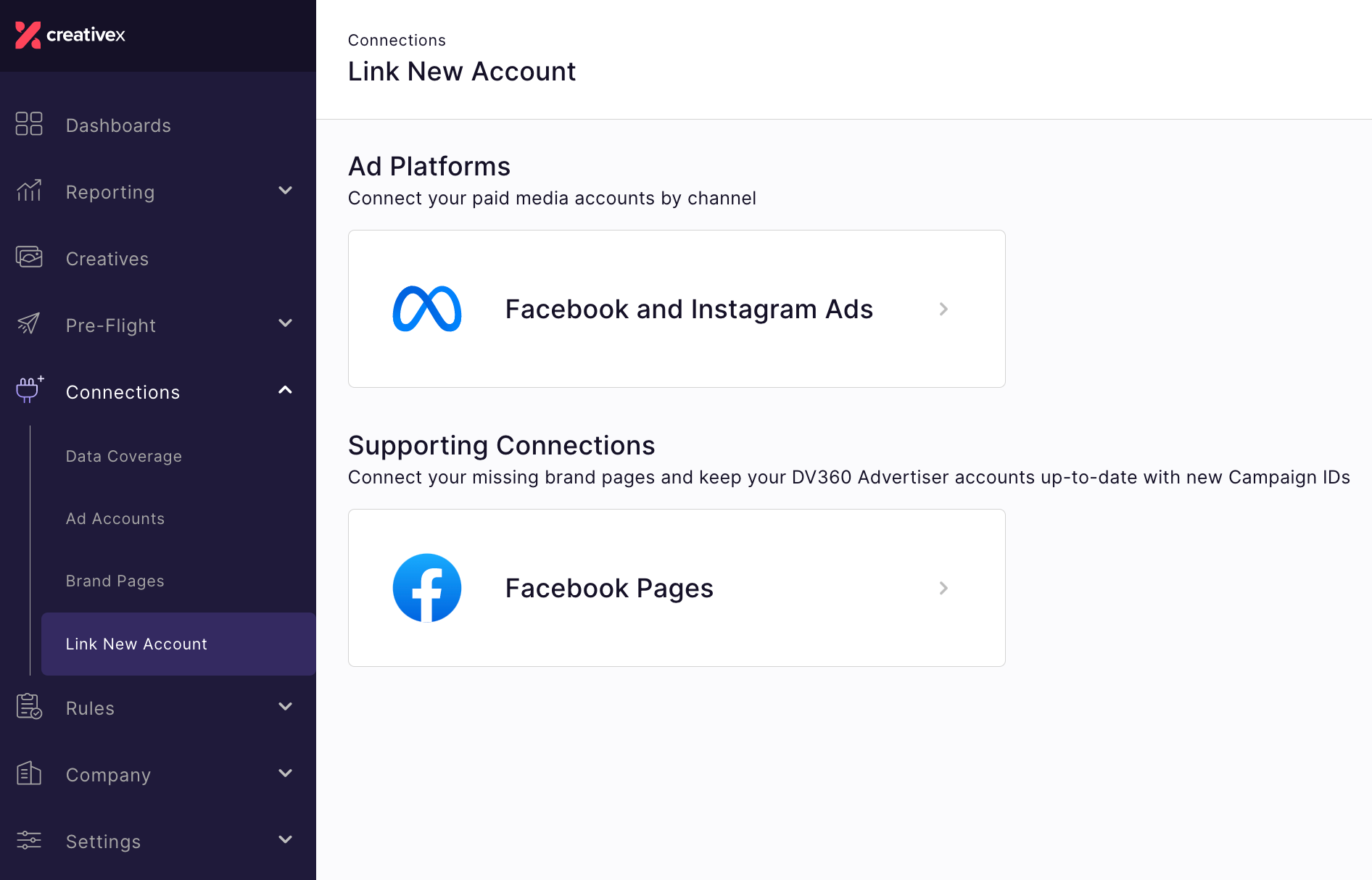 When prompted, sign into your Facebook account and you'll then be shown all of the business managers that you have access to. CreativeX will only be able to collect data from the managers that you choose.
Note: Don't edit any of the permissions in the flow as you won't be able to complete it.
The permissions listed here are standard from Meta and are covered by your company's data-sharing agreement with CreativeX. We gain read-only access to the asset and performance information of your content.
Once you've identified the Business Manager(s) that you need, confirm the selection.

Select the Brand Pages from the populated list and press Continue




We'd recommend bulk-selecting all relevant Pages to ensure full data coverage.

Doing so will mean that even if some Pages don't have an account association at the moment if one is made later on it will be automatically detected.

The summary page will let you know if CreativeX has detected any accounts that are associated with an already linked

Ad Account

It's OK if any say TBD. New connections are added all the time and the Brand Page will be automatically associated when a new connection is made

Finally, confirm that you're happy with the selections to complete the linking.




You can always come back and link additional Pages at a later time.
Congratulations! Your Pages have been linked to CreativeX!
Summary
⚠️ Remember! CreativeX will not be able to pull in additional video content data unless the associated Brand Pages are linked as outlined above. You can use the Data Coverage overview to see a list of ALL required pages for your organisation.
If you don't have the admin-level permissions to do this then you should contact the brand team that owns the pages and give them access to CreativeX so that they can complete this step.

You can also view all Connected and Missing Pages within the Brand Pages sections of the Ad Accounts page to see what action you need to take.